Description
What is Quillbot:
Quillbot is an online writing tool that uses artificial intelligence and natural language processing to help users improve their writing. The tool can be used to paraphrase text, summarize long articles and generate more effective sentences. Quillbot uses machine learning algorithms to analyze and understand the text entered by the user, then provides suggestions and alternatives to rewrite the text more concisely and clearly.
Users can enter text into the application's interface, then choose from a variety of modes and settings to customize the result. For example, users can choose between different writing styles, such as formal or casual, and can adjust the level of "flow" of the output text. Quillbot can also help users improve their grammar and syntax, and can identify and correct common writing errors.
Quillbot is often used by students, researchers and professionals who need to write reports, essays or other types of documents. The tool can help them save time and effort by providing quick and accurate suggestions for improving their writing, while helping them ensure that their work is clear, concise and grammatically correct.
How does it work?
QuillBot uses advanced artificial intelligence (AI) algorithms to understand the meaning and context of the input text and generate alternative versions that retain the same meaning. Here's how it works in more detail:
Understand the input text: The tool's AI algorithms analyze the input text to identify key phrases, ideas and structure. They use natural language processing techniques to understand the meaning and context of the text.
Generate alternative versions: Based on its understanding of the input text, QuillBot generates several alternative versions of the text. It uses a database of millions of words and phrases to suggest appropriate synonyms and sentence structures that can be used to reformulate the original text.
Alternative Evaluation: The tool's AI algorithms evaluate proposed alternatives based on factors such as grammar, syntax and readability. They select the most appropriate and effective alternative and present it to the user.
Customize the output: QuillBot allows users to customize the output to their preferences, for example by selecting different modes and specifying words or phrases to include or avoid. Users can also provide feedback on suggested alternatives, which the tool uses to improve its performance over time.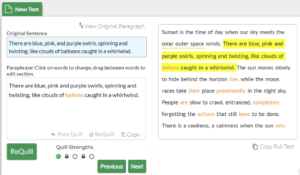 The Advantages:
Saves time: QuillBot can quickly generate multiple alternatives for a sentence or paragraph, which can save time for writers who need to produce a lot of content.
Improves writing quality: QuillBot can help writers to produce more polished, professional, and readable content by suggesting alternative phrasing and wording.
Promotes originality: QuillBot can help writers to avoid plagiarism by suggesting alternative phrasing that is unique and original.
Increases productivity: By providing suggestions for rephrasing text, QuillBot can help writers overcome writer's block and improve their productivity.
Provides customization: QuillBot allows users to customize the output according to their preferences, such as selecting different modes and specifying words or phrases to include or avoid.
Offers multiple features: QuillBot offers additional features such as summarization, paraphrasing, and grammar checking that can further enhance the quality of the text.
The best alternatives:
: Online skills development platform
Grammarly
Spinner Chief


Why choose us?
We provide the best customer service. That means if you have any problems, big or small, we will get back to you as soon as possible and answer your questions. You pay not only for the accounts, but also for our outstanding service!
Use of a premium VPN service to access the content is optional.